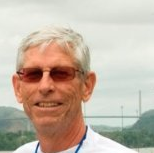 In this latest edition of our Career Insights series, we hear from Dr. Paul Henshaw. Dr. Henshaw is currently a visiting professor in the UC Berkeley Earth and Planetary Science Department with research interests focused on the evolution of basins and their stratigraphic, structural and biogeochemical processes through time.
Paul has 30+ years experience in oil and gas exploration, production and technology development, spending nearly his entire career working for Chevron dedicated to Research and Development in Geology, Geochemistry & Chemistry; Exploration & Production Geology; Management of E&P and R&D. He holds a BA in Geology from UC Berkeley and an MS and PhD in Oceanography from University of Washington.
And on to his career insights!
1. What are a few career moments of which you are most proud?
My early work in the 1980's with service companies to test Neutron Logs in fractured reservoirs is a highlight that first comes to mind, as well as working with National Labs on improving reservoir cross-well imaging.
Other big moments have been more business process driven, including my work on the incorporation of organic geochemical data/models into Exploration & Production risk assessment; significantly improving heavy oil recovery in mature fields; and, linking operations with R&D.
2. How do you push through challenging times in your career and keep a steady work/life balance?
In regards to work life balance and managing difficult times in my career, I had a very understanding spouse, family is IMPORTANT! I also made close connections across disciplines in E&P, especially with field operations teams, which provided valuable support during difficult times. No matter what, I learned how to add critical value to the production side of E&P, which helped keep me focused as challenges presented themselves.
3. What habits contribute to your success?
There are three key habits that I believe contributed to my success, and that I think are critical for anyone as they advance their career:
Finding strong mentors, and when you have the opportunity, mentor young employees.
Enjoying my work and helping employees recognize their strengths.
Developing strong networks across disciplines.
4. What's the best piece of advice you'd give to a young professional in this industry today?
For professionals of any age, there are some really simple pieces of advice that really can make the difference in your life and career:
Figure out what you enjoy doing and do it!
Help others succeed.
Keep learning new skills and work well with others.
See all of Dr. Paul Henshaw courses on Knowledgette here!